MK will shine at the Vietnam PrintPack!!!
Vietnam PrintPack
As the premier industrial event in Vietnam, Vietnam PrintPack has been committed to making it easier for global companies to enter the Vietnamese market and helping the local printing and packaging industry explore global demand. With the continuous development and growth of the printing and packaging industry, the exhibition has become more and more well-known, attracting more and more well-known enterprises and industry associations. In 2019,it attracted more than 360 exhibitors from 18 countries and recorded more than 16,000 trade buyer visits. And in 2023, it's here again!!!
Established in 1995, the headquarters of MK is located in the BEDA in Tianjin and was listed in ShenZhen GEM in March 2011. The main business of MK includes printing equipment manufacturing, financial leasing, intellectualization & digitalization business and consultations of smart plant.
Over hundred products in 7 product series of foil stamping machine, die cutter, inspector, folder gluer, variable data printing, laser cutter and gravure printing press were totally independent developed by MK. Many of these products are MK's independent innovation, but also reached the world's leading technology level.The product sales cover more than 100 countries over the world. As the No.1 market share of post press industry in China, Masterwork has expanded international marketing, and achieved a strategic cooperation with Heidelberg initiating since 2014, becoming its exclusive supplier in post press business. After that, we acquired the factory in Slovakia and R&D center in Germany from Heidelberg, so Masterwork became the largest shareholder of Heidelberg in 2019.
MK won many state honors and provincial awards, owning national-accredited technical center. Each year around 5%-7% of sales revenue of MK is invested in R&D. MK is qualified for providing whole solution of system integration in related industry and was rated as the national systematic solution provider of smart manufacturing in printing industry in 2020.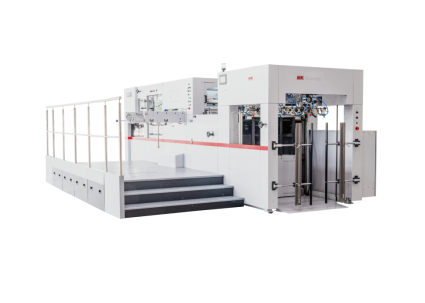 MK Ecocut106CS
1、Fitting for sticker label, folding corton, industrial paperboard, and tiny corrugated packaging,
2、Rapid ROI, highest effective die-cutter
3、The max. speed is 7500s/h
4、Highly effective stripping with central positioning system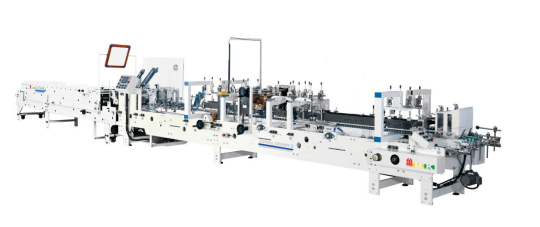 MK 800FBⅡ
High speed with maximum line speed is 400m/min.
It's fitting for the format of 550mm/650mm/800mm/1000mm, Material required folding box board 200-800gsm,N-,F-,E flute corrugated board.
Straight line box with 1st and 3rd crease line prefold, and crash lock bottom. It fully meets the strict requirements of the wrapping line for the opening strength and stiffness of the paste box products after forming.
MK FBII can be used to quickly select suitable special accessory units when customers produce special specifications and special structure products, so that the function of the equipment is sublimated; Increase in value of customer investment; Promote customer benefit maximization.