Masterwork Debuts With MK1700CS In Suzhou
Masterwork Debuts With MK1700CS In Suzhou
MK will debut with its latest masterpiece, MK1700CS at the 2023 China International Corrugated Exhibition & China International Carton Exhibition & Asian Corrugated Carton Industry Procurement Conference in Suzhou on May 19th. This event is a significant industry affair, co-organized by the Paper Packaging Committee of the China Packaging Federation and the industry media, Meiyin Media. It aims to provide a high-end, diverse, professional, and grand platform for industry exhibitions, thematic exchanges, technology competitions, and other activities for the paper packaging industry.
Welcome to watch the live broadcast on Facebook:https://www.facebook.com/profile.php?id=100076318812755
Masterwork will also showcase our latest high-end equipment, the MK1700CS, which provides automation and intelligent solutions to the packaging industry and offers a brand new experience in large-format stripping die-cutting solution.
Compared to traditional vertically splice paper method, which can be inefficient and lead to low paper utilization, MK1700CS stripping die-cutting machine offers a fresh solution to this problem. This innovative machine can be used with all corrugated cardboard and stone laminated board, ranging in thickness of 1-8.5mm.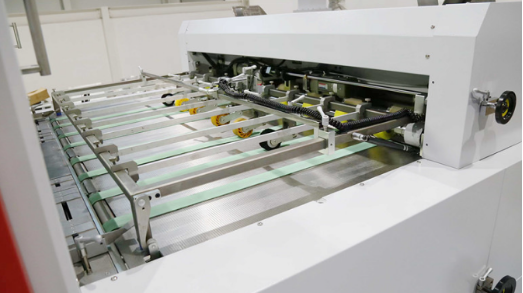 MK1700CS
With a large paper size of 1700mm x 1260mm, it can easily handle more types of larger multi-layered materials . This makes it perfect for use with a wide range of packaging needs, such as beer boxes, household appliance boxes, Taobao boxes, express boxes, color box outer packaging, etc.
In addition, its highest speed can reach 6000 sheets/hour, which is poised to revolutionize the industry and provide customers with superior performance.
At that time, we will also launch an online live broadcast of the exhibition, providing you with an immersive new experience, providing you to truly feel the charm of the MK1700CS.